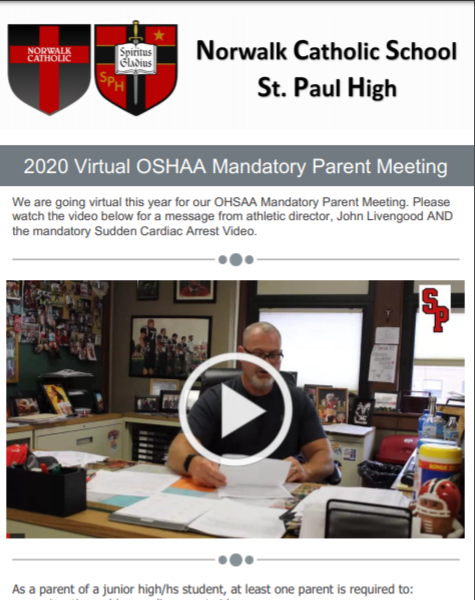 2020 Virtual Mandatory OSHAA Parent Meeting
Danny Grine
Tuesday, July 21, 2020
JH/HS Parents should have received the following information in their email on July 21st:
We are going virtual this year for our OHSAA Mandatory Parent Meeting. Please watch the video below for a message from athletic director, John Livengood AND the mandatory Sudden Cardiac Arrest Video.
As a parent of a junior high/HS student, at least one parent is required to:
view the sudden cardiac arrest video
sign the Norwalk Catholic School attendance form
sign the sudden cardiac arrest form
The signed forms below must be turned in by Monday, July 27 in order for your athlete to participate in their fall programs. If you have multi-season athletes, you only need to turn these forms in once.
Click on the links below to view video and download needed forms:
2020 Virtual Mandatory OSHAA Parent Meeting
https://core-docs.s3.amazonaws.com/documents/asset/uploaded_file/808860/Scanned_from_a_Xerox_Multifunction_Printer__5_.pdf
https://core-docs.s3.amazonaws.com/documents/asset/uploaded_file/808862/Physical_Packets_2020.pdf_extract__1_.pdf