May 5, 2020
Class of 2020,
The Huron County Public Health has approved our graduation plan below. We will be sending out more specifics to each graduate next week. Graduates, please remember to pick up your cap and gown Wednesday, May 6, 2020 at the Convocation Center from 10:00 AM - 12:00 PM.
Plan


Set-up for Graduates:
Graduates will each be in a car parked in the highlighted parking lot with at least one open spot between each car. Cars and spaces will be labeled for each graduate to ensure an orderly conferring of the diplomas. A police offer will be present to ensure there is no congregating or hopping between cars. A staff member will also be monitoring the parking lot and coordinating the movement of cars.
Baccalaureate Mass:
The Baccalaureate Mass will be in the church and live streamed to devices for graduates in their cars. During the Baccalaureate Mass no more than 10 people will be in the church. There will not be hand shaking, hand holding or distribution of communion. The Mass will follow the same procedure as all current Masses.
Commencement:
Commencement will immediately follow Mass in the church and will be live streamed to devices for the graduates in their cars. During the commencement no more than 10 people will be in the church. The customary speeches will be given.
Conferring of Diplomas:
One at a time, each graduate's car will be permitted to go up the church ramp (red line on the map) and park the car. During the conferring of diplomas no more than 10 people will be in the church. The doors the graduates will be using will be propped opened so there is not a commonly touched surface. The graduate and two adults will enter the church. The graduate will walk down the center aisle, once at the front of the church the graduate will be handed the diploma by Norwalk Catholic School President, Martin Linder (Mr. Linder will
be wearing an N95 mask). There will not be contact between the graduate and Mr. Linder. The graduate and the two adults will be in the church for less than 5 minutes. The graduate will return to their car and pull down the ramp. Once the car is down the ramp the next graduate will follow the same protocol outlined above.
Map: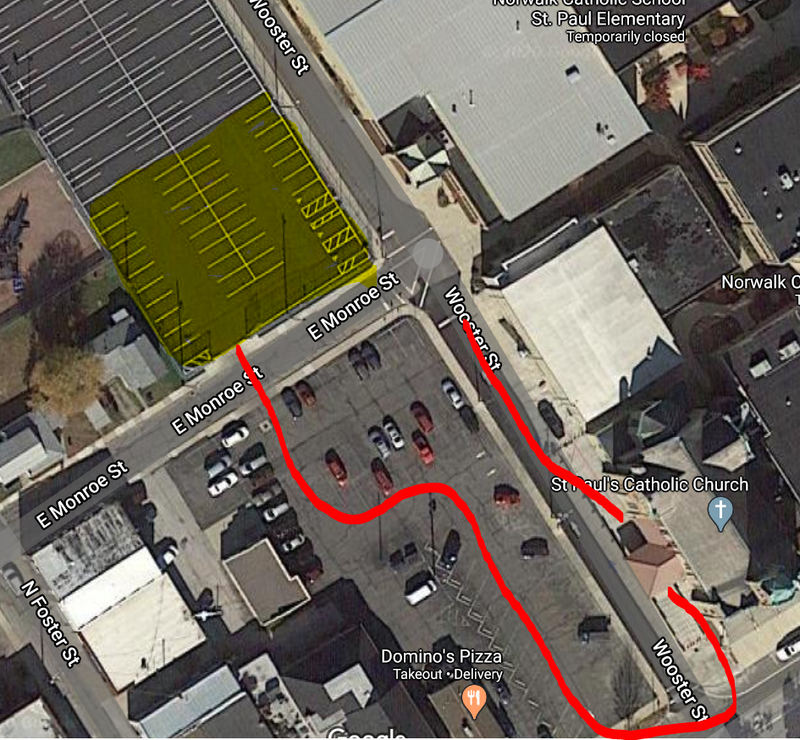 The plan will allow for our graduates to receive their diploma in St. Paul Church while also ensuring there is no person to person conduct.
Stay safe, stay healthy, stay positive.
Martin Linder
Norwalk Catholic School
President