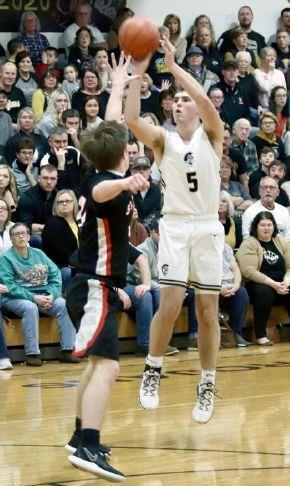 South Central-St. Paul III: Win and advance
Mark Hazelwood
Tuesday, March 03, 2020
https://norwalkreflector.com/news/176202/south-central-st-paul-iii-win-and-advance/
WILLARD — While both sides wish it were a game later, it all seems fitting.
Both South Central and St. Paul shared the Firelands Conference championship this season, along with Western Reserve.
During the two regular season games, neither was decided until the final minutes. The Flyers won in overtime, 69-66, on Jan. 3 in Norwalk, while the Trojans claimed a 66-60 win on Feb. 14 in Greenwich.
Now comes Tuesday's third meeting of the season, an 8 p.m. Division IV district semifinal inside Robert L. Haas Gymnasium at Willard High School. The seeds played to the draw at the two sectional sites, as the first game Tuesday at 6:15 p.m. is No. 1 Lucas (23-1) vs. No. 4 St. Mary Central Catholic (16-8). The Trojans are the No. 2 seed and the Flyers are third.
"We're excited," St. Paul coach Mike Smith said. "We're in a district semifinal and get to play a team we split with who we have utmost respect for. South Central is obviously a really good team and very well-coached. We're looking forward to round three with them."
The Trojans are coming off an impressive defensive performance in a 48-26 win over Crestine (13-11) in Friday's sectional title win at Crestview.
They held the Bulldogs to just 11 points total over three quarters. Kaden Ronk, Crestline's 1,109-point all-time leading scorer, was held to just six points. He entered the game averaging 18.8 points per game.
Calvin Reed and Spencer Harley average nearly 20 points per game combined, but were limited to just 12 by the Trojans.
"Ronk only scored his six points on run outs," South Central coach Brett Seidel said. "He and Reed didn't score in the half court, and that is a testament to our entire team knowing assignments. Sam (Seidel) and Simon (Blair) took pride in their individual assignments.
"We obviously know that St. Paul will take an entire team effort defensively," he added. "They are so balanced, and all five guys scored in double figures in their win (on Friday), so we all will have to be willing to defend."
The Flyers advanced on the strength of a 64-54 win over Mohawk (14-9) after the Trojans topped the Bulldogs.
In each regular season meeting, the home team and eventual winner jumped out to fast starts and went ahead double-digits before holding off a late run by the road team.
In the most recent meeting, St. Paul fell behind 25-6 early in the second quarter, but came all the way back to close within four points before falling by six.
"South Central will be physical and we need to match that," St. Paul coach Mike Smith said. "We need to close out and rebound at the defensive end. Offensively, we need to be better than we were last time.
"We got off to a bad start, but a lot it had to do with their ball pressure," he added. "It took us a while to get adjusted. We fell behind 19 and were able to chip away, but that is too big to come back from against a great team."
Smith knows his team will again have his hands full with Blair, the Trojans senior point guard. Of course the longtime coach isn't alone in that regard. Blair has 1,742 career points, and is a two-time FC and District 6 Player of the Year.
He averages 20.9 points, 4.4 assists and 3.3 steals per game. He scored 26 points in the loss at St. Paul and 25 points in the home win.
"Simon is the type of elite player that doesn't come through your school system very often," Smith said. "He can do so many things. He's super quick, can shoot it — and he doesn't take a lot of bad shots and gets others involved. He makes everyone else better."
Smith noted the toughest part with defending the Trojans is teams have to make sure Blair doesn't score 40 or so points, which he's capable of, but also not let the role players hit big shots.
"If you look at their bigger wins, it's kids like Jackson McCormack, Sam Seidel, Blaine Wheeler and Evan Legg hitting big shots," Smith said. "When those guys make shots, they are really hard to guard.
"Isaiah (Seidel) and David (Lamoreaux) are both pretty solid, but it's those other guys who give them the burst," he added. "You have to pick your poison a little bit. You have to try to keep Simon out of the lane, get to their shooters, then it comes down to physicality and rebounding the ball."
Since a 57-49 loss at Western Reserve on Feb. 7, the Trojans are averaging 65.3 points per game.
"Western showed us that our zone offense needed some tweaks, and we have to play four quarters," coach Seidel said. "Coach Smith does a great job and his kids are always well prepared, and whoever is able to take care of the basketball is a key to the game. In the tournament, every possession matters."
Lamoreaux adds 12 points and 8.1 rebounds per game for South Central, while Isaiah Seidel averages 8.7 points, 5.2 rebounds and 1.8 assists per game.
St. Paul enters the matchup averaging 62.8 points while allowing 53.9 per game. They hold an average rebounding edge of 35-28 per contest.
Junior Nick Winslow averages 16.9 points, 8.5 rebounds, 2.8 assists and 1.8 steals for the Flyers. His twin sibling, Nate, adds 13.5 points, 6.5 rebounds, 2.6 assists and 2.8 steals.
Also for St. Paul, senior center Jordan Shepherd is averaging 11.5 points and 6.8 rebounds, while senior Brandon Furlong adds 10.7 points and 5.4 rebounds. Junior Scott Adelman averages 7.3 points, 4.6 rebounds and 3.5 assists.
The Flyers started the season 11-1, but stumbled a bit down the stretch in losing seven of nine games. That was punctuated by a home loss to a then 4-15 Perkins on Feb. 15.
However, the Flyers regrouped and beat Plymouth in the regular season finale to clinch a share of the program's first FC title in 23 years. They then added a ninth sectional title over the past 13 seasons with the win over Mohawk.
"It helps to get a little success and get some confidence back offensively," Smith said. "These kids have worked extremely hard and are deserving of victory. The things we have accomplished this year so far, we're real proud of. We can see the confidence getting better, and getting some of that early swagger back."
Meanwhile, the Trojans are FC champions for a second time in three seasons, and last year won the program's first district title in 45 years. Over the past five years, South Central has averaged 16 wins per season.
"I understand how hard it is now to sustain winning, especially against programs like St. Paul and Western Reserve," coach Seidel said. "Players win, and I am blessed with great players who have put a lot of time in when no one is watching. I am just honored and grateful to just to be a part it with these kids."